[This piece originally appeared in the April 6, 2023 edition of my Open Notebook newsletter.]
Mariah Negro1 is an unsung founding mother of Massachusetts. Purchased in Boston as a child in 1673 by Scituate shipbuilder Walter Briggs, Mariah sued for the freedom of her daughter Molly (née Mary),2 who had been wrongfully imprisoned and enslaved by Cornelius Briggs.
I'm not the first to write about Mariah's remarkable struggle.3 But because her story is often relegated to a footnote or an aside, her place in Massachusetts history is undervalued. In this three-part series, the Eleven Names Project will be the first place to publicly compile and link all known documents of Mariah's life in a free and accessible format.
This first installment of the series documents Mariah's life from 1673 – 1716. The second installment will excerpt, link, and cite five court records involving Mariah and Molly. And part three will review facts and speculation about the family of Mariah and her husband Anthony/Tony Sisco after 1716. For example, some genealogists speculate that Mariah is an ancestor to Sarah Roberts, who, along with her father, brought the school desegregation case Sarah C. Roberts vs. The City of Boston in 1849; I don't think that is the case, and I'll explain why in part three.
Biography of Mariah
A 1673 bill of sale documents Walter Briggs' purchase of Mariah, a child, from Margaret Cock(e)/Cox. This crucial document is the best early record of slavery in Plymouth County.
While it has been suggested that Margaret Cocke was a widow at the time, a careful examination of the sale documents suggests that she was acting under power of attorney for her husband, Edward Cock(e)/Cox, who was still alive but incapacitated. This is confirmed by Thwing's Inhabitants and Estates of the Town of Boston. . .4, which reveals that Edward died in 1675.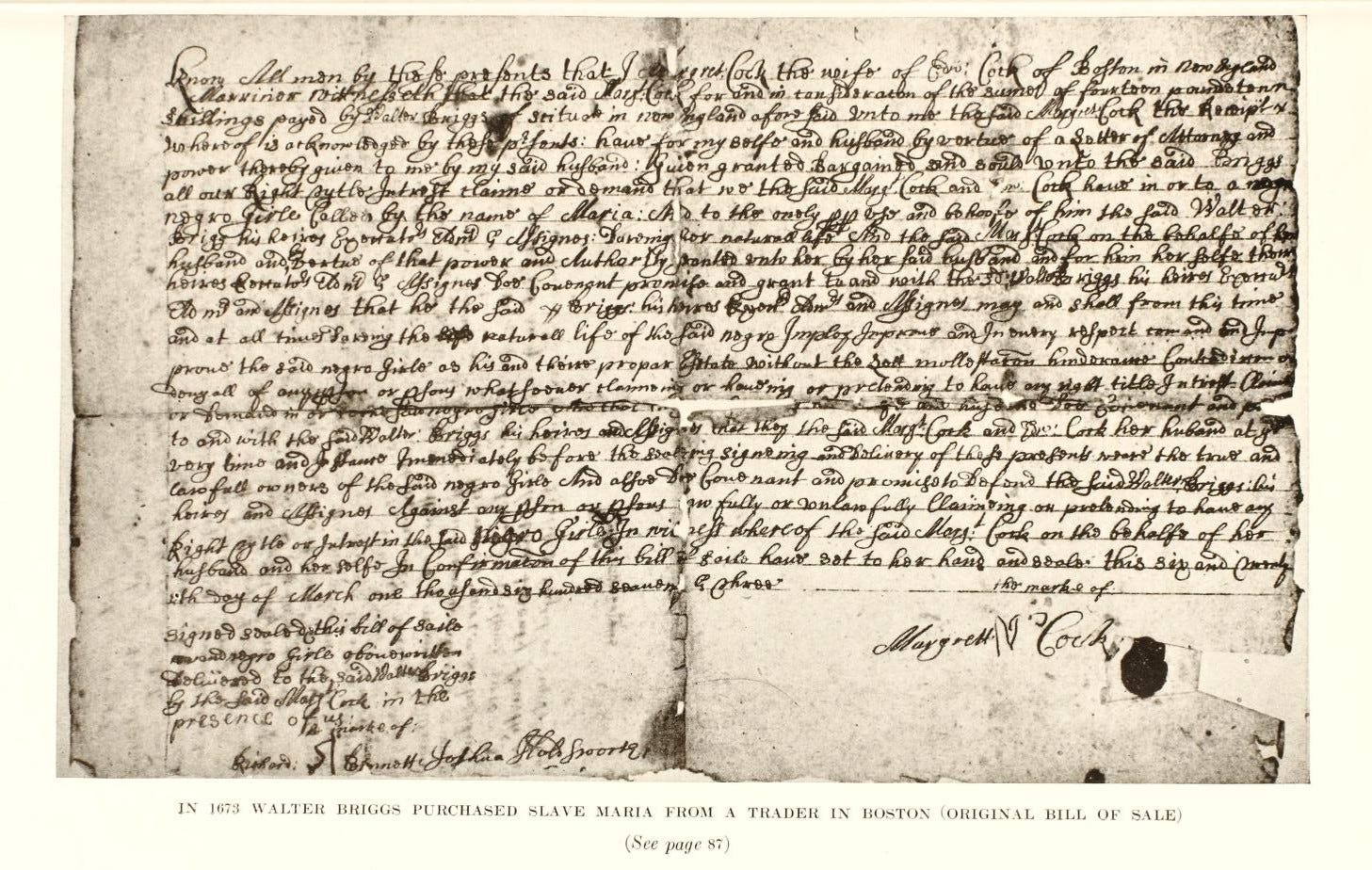 Mariah's parents are conspicuously absent from her narrative. Mariah's story isn't typically couched as a family separation until we examine the 1716 freedom suit, but Mariah is clearly alone in the world. It is unclear if her parents were in Boston/New England, or perhaps they remained in the West Indies or Africa. Furthermore, it's impossible to know if Mariah had siblings.
Briggs was a Scituate shipbuilder who built at Hobart's Landing at the mouth of the North River in Scituate Harbor. Along with Mariah, Briggs enslaved another African, a man named Jemmy.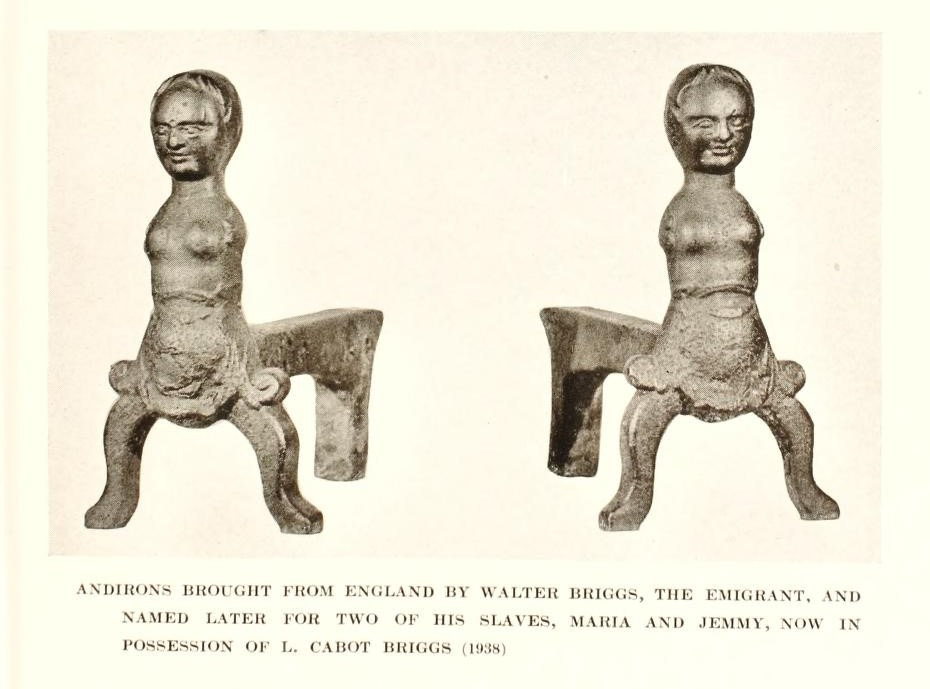 Walter Briggs died in 1676. I have not located an original copy of his will, but it was transcribed into the Records of the Colony of New Plymouth in New England,5 which were later printed and published in the 1850s. In his will, Briggs stipulates that:
I will that my executor allow my said wife a gentle horse or mare to ride to meeting or any other occasion she may have, & that Jemy, ye neger, catch it for her. Also, I will my said wife, Mariah, ye little neger gerle, to be with her so long as my wife lives, provided she continue at Conihassett.

Tellingly, three years after Briggs purchased Mariah, he still referred to her as a "little. . .gerle;" I speculate that she is between eight and twelve years old in 1676—as if being enslaved and female wasn't vulnerable enough.
L. Vernon Briggs, who wrote about Mariah in 18896 and 19387, tells us that "[t]he records show that this Mariah passed to Walter's widow [Frances Briggs], then to their son John; and," in 1689, "that John's widow, Deborah, disposed of Mariah" to Capt. Cornelius Briggs.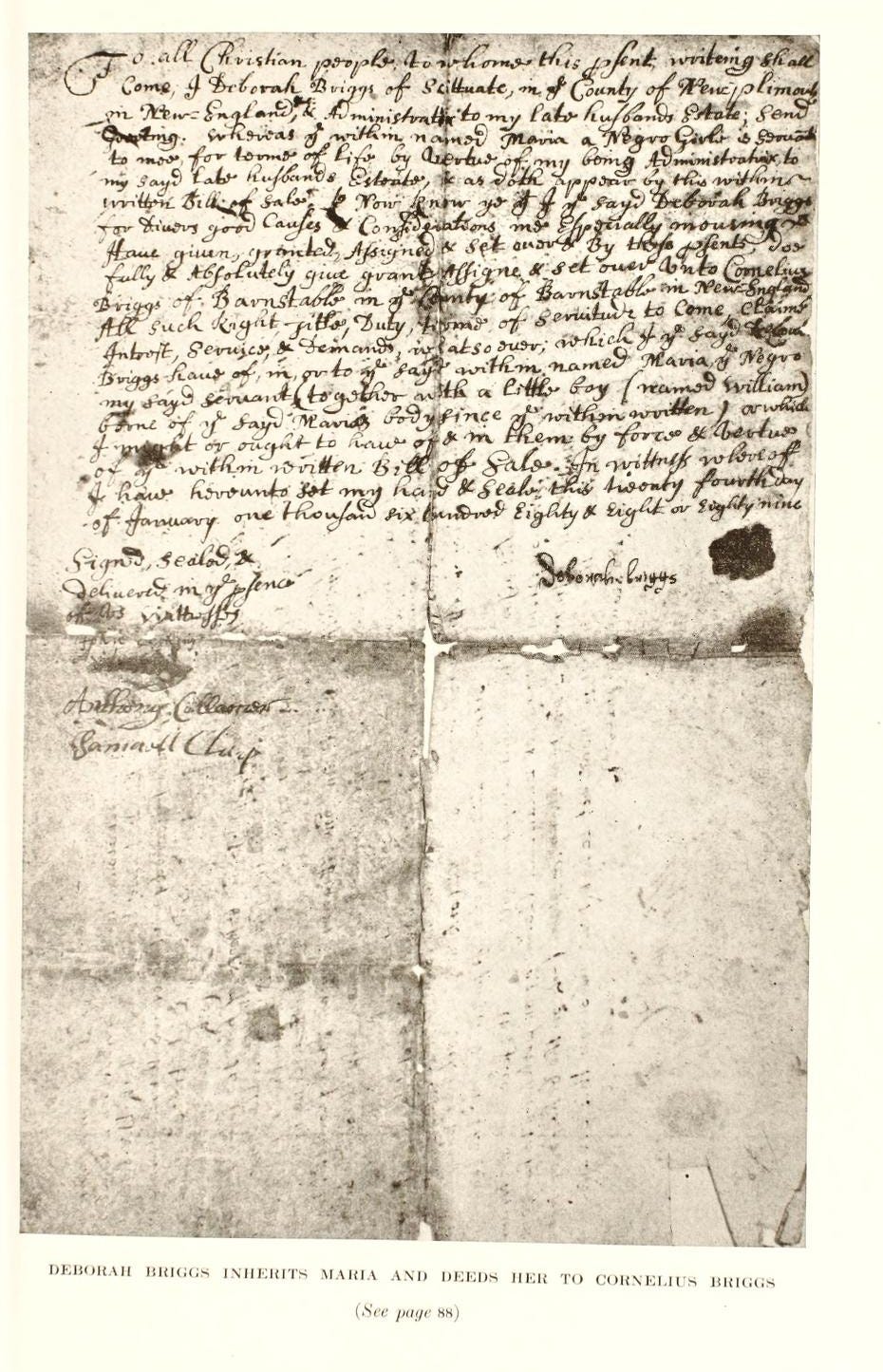 Capt. Cornelius Briggs died in 1693. His original will is not in the Plymouth County Probate File Papers that Eleven Names routinely cites, but a handwritten transcription exists in the bound Plymouth County Probate Records, Vol. 1: 1686 – 1702. In this will, twenty years after Walter purchased Mariah, we learn that she is still the property of the Briggs family, that she is still with her son Will Tomas, and that she is to be freed after thirteen years of further enslavement in 1706.


Who was Will Tomas's father? It's impossible to know. It's unlikely it was Anthony/Tony Sisco who Mariah married in 1714. Studius readers of Open Notebook will remember that an enslaved Indian man named "Will Indian"8 lived two miles down the road at the estate of Scituate's barbaric Capt. John Williams. Another young enslaved Indian man named Thomas, perhaps Will's brother, also was enslaved by Williams. We can only speculate if there is a familial connection between the enslaved people of the Williams and Briggs estates, however, both Williams and Briggs had white indentured servants surnamed Sprout who doubtlessly were in contact with each other.
Cruelly, Will Tomas was separated from Mariah in 1703. L. Vernon Briggs, writing in 1938, attests to a 1703 bill of sale in which Will Tomas, "son of Maria," was sold to Jabez Wilder of Hingham for £35.9 Notably, a Will, no surname given and enslaved by Theophilus Cushing, died in Hingham in 1736.10
Following the administration of Capt. Briggs' will in 1694, James Briggs, the executor responsible for the 1703 sale of Will Tomas, deeded Mariah to Stephen Otis, stipulating her release after eleven years of service.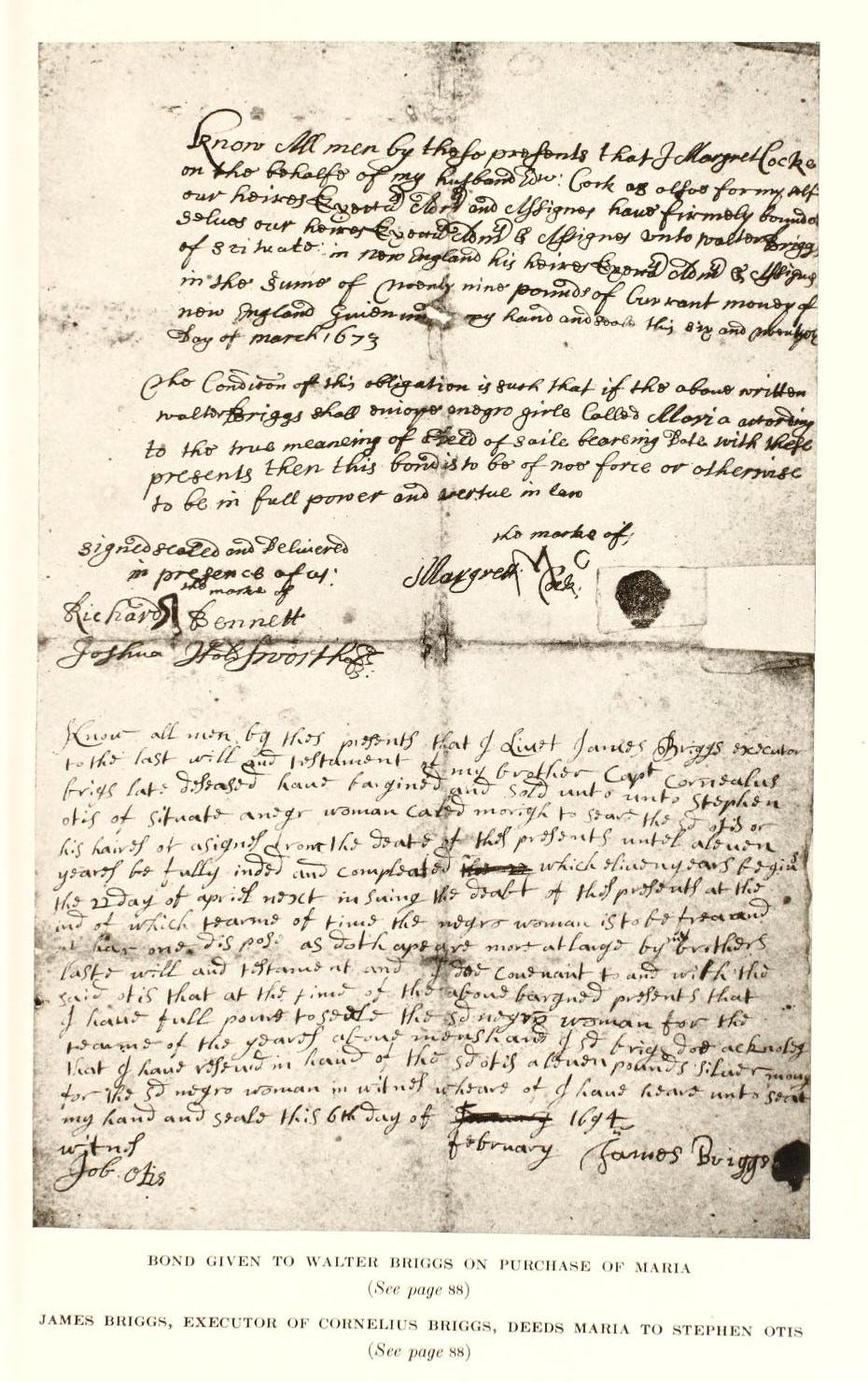 We know 1706 was the latest Mariah was to be granted her freedom. But there is a gap in the records between the 1703 sale of Will Tomas and Mariah's 1714 marriage to Tony Sisco.
A 1716 court document indicates that Molly is about nine years old, placing her birth circa 1707. This ponts to a birth record for Molly; Scituate vital records note that Mary was born to "Meriah" on May 4, 1708. A note in the Suffolk Files case #12282 further confirms that this is Molly's birthdate.

The timing of Molly's birth may be coincidental, but it's also possible that Mariah, a woman likely in her 40s, timed Molly's conception with the end of her bondage. The status of the child followed that of the mother, therefore a child born to an enslaved woman is automatically the property of the mother's enslaver. And if a free mother gives birth, the child is automatically free. We are left wondering if Mariah waited and conceived Molly as a grand gesture to exert her newfound freedom.
In 1713, Meriah gives birth to a daughter named Grace. Later in part three, we'll explore several enticing documents that bear witness to Grace Sisco's noteworthy life.
In 1714 we find the church record written in the hand of Scituate's the Rev. Nathaniel Eells, stating, "Antony Sisco my negro man, & Mariah negro free woman, were married October 28, 1714."
The "negro free woman" phrase is important because, as we'll see in the next Open Notebook, Cornelius Briggs, son of the deceased Capt. Cornelius Briggs, argued that Mariah's daughter Molly was his property because Mariah was not a free woman. Accordingly, Briggs detained and enslaved Molly in the neighboring town of Pembroke, a fair distance from the Siscos, who presumably lived with the Rev. Eells' family in today's Norwell.
However, Briggs was an utter fraud because the paper trail establishes that Mariah was a free woman, and this marriage record establishes that the greater Scituate community was aware of her free status. Unfortunately (but not surprisingly), the courts were a hindrance to Molly's freedom.
---
1 Mariah had no recorded last name until she married in 1714. Her first name is alternately spelled Mariah, Meriah, and Maria.
2 Court documents in the forthcoming newsletter demonstrate that Mariah's daughter is known as both Molly and Mary. Therefore, I am using Mariah and Molly throughout my work for consistency.
3 L. Vernon Briggs is the first and best source for Mariah's life. Norwell journalist and historian Pattie Hainer first wrote about Mariah in the 1990s. Mariah is mentioned in multiple academic works, including Gloria M. Whiting's 2016 Ph.D dissertation and Zachary McLeod Hutchins' book, Before Equiano. Susan Elliot wrote about the Maria and Jemmy andirons in 2021 at her site, Enslaved New England. Part two of this series will lean heavily on the work of Edward L. Bell.
4 Boston, MA: Inhabitants and Estates of the Town of Boston, 1630-1822 (Thwing Collection). Inhabitants and Estates of the Town of Boston, 1630–1800 and The Crooked and Narrow Streets of Boston, 1630–1822. Online database. Boston, Mass.: New England Historic Genealogical Society, 2001. AmericanAncestors.org. (paywall) See also: Suffolk County probate file # 741
5 Records of the Colony of New Plymouth in New England. Court Orders. Vol. 5 1668 – 1678.
6 Briggs L. Vernon. 1889. History of Shipbuilding on North River Plymouth County Massachusetts: With Genealogies of the Shipbuilders and Accounts of the Industries Upon Its Tributaries: 1640 to 1872
7 Briggs L. Vernon. 1938. History and Genealogy of the Briggs Family 1254-1937, Vol. 1. NB: The photostats of the deeds and the andirons are excerpted from this book.
8 Will Indian died in 1695 and his probate inventory showed extensive land holdings for a once enslaved man; he left no last will and testament, and the file mentions no heirs or assigns. It's unknown who took control of Will Indian's property.
9 Will Tomas' sale is the second of three family separations in Mariah's narrative. Per L. Vernon Briggs: "Cornelius' will was allowed 15 Nov. 1694. His brother, Lieut. James Briggs, as executor in settling the estate in 1703, sold Cornelius' negro servant, 'Will Tomas,' son of 'Maria,' to Jabez Wilder of Hingham for £35. Jabez' great-great-grandson, the late Edwin Wilder, had this bill of sale in his possession in 1901."
10 Jabez Wilder died in 1731. For records on Wilder and Will, see: Hingham, MA: Vital Records, 1637-1845. Online database: AmericanAncestors.org, New England Historic Genealogical Society. (paywall). On p. 193 of his book, Briggs asserts that a man named Will enslaved by John Briggs of Boston was Will Tomas, but I don't find a compelling reason to believe that.

Read more local history:
Mariah Negro vs. Cornelius Briggs (pt. 2) [This piece originally appeared in the April 13, 2023 edition of my Open Notebook newsletter.] In writing this edition of Open Notebook, I owe a debt to Edward L. Bell.1 Mr. Bell is the author of the book Persistence of Memories of Slavery and Emancipation in Historical Andover (Shawsheen Press, 2021) and…
Keep reading
Grace's indenture was the subject of a lawsuit the following year. In 1742 Joseph Clap Jr. sued fellow Scituate man Samuel Stockbridge alleging that Stockbridge "enticed away and took into his own service one Grace Sisco a negro woman who was at that time and is now a covenant servant of the plaintiff." Surprisingly, the jury found…
Keep reading
SUBSCRIBE TO MY NEWSLETTER: https://elevennames.substack.com/

Copyright Wayne Tucker 2023. This work is licensed under a Creative Commons Attribution-NonCommercial 4.0 International License